COVID-19 Neutralizing Antibody Test Kit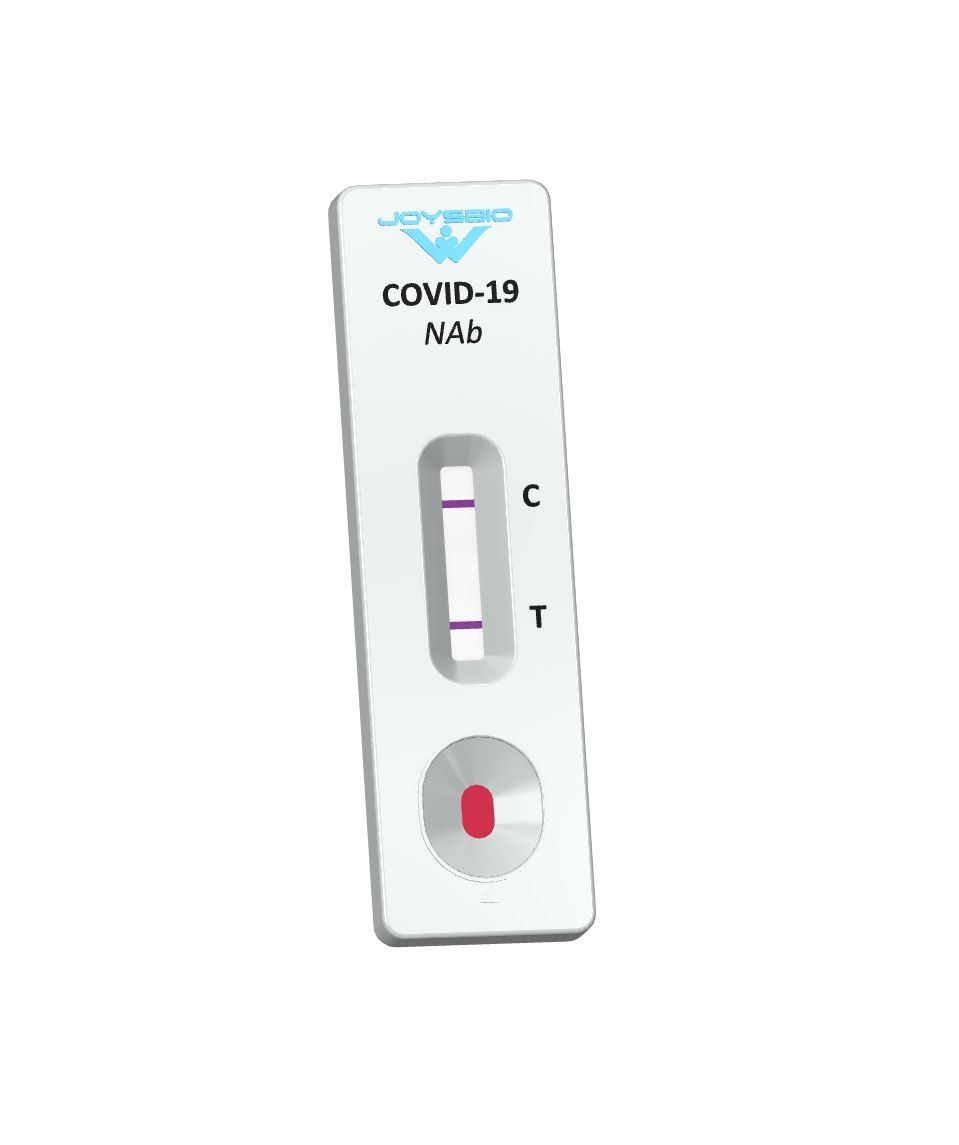 COVID-19 Neutralizing Antibody Test Kit
On July 4, 2020, JOYSBIO launched a rapid COVID-19 Neutralizing Antibody Test Kit (lateral flow cassette) for semi-quantitative detection of neutralizing antibody (NAb) level.
Similar to many infectious diseases, neutralizing antibodies can help to inhibit SARS-CoV-2 replication, which means the level of neutralizing antibody correlates to the immunity of future SARS-CoV-2 infections. A semi-quantitative or quantitative detection of neutralizing antibodies can help with vaccine development, plasma therapy, and immunology study.
Features:
Rapid detection within 15 mins
Compatible with serum, plasma, whole blood, and fingertip blood
Detects NAb that blocks RBD-ACE2 interaction
Inquire now
Neutralizing Antibody Rapid Test Intended Use
The 2019 novel coronavirus (SARS-CoV-2) has several structural proteins, including spike (S), envelope (E), membrane (M), and nucleocapsid (N). The S-protein contains a receptor binding domain (RBD), which can recognize the cell surface receptor, angiotensin-converting enzyme-2 (ACE2). In a recent study, neutralizing antibody (NAb) can block the interaction between the receptor-binding domain (RBD) of the novel coronavirus spike protein with the ACE2 cell surface receptor. The level of NAb, therefore, can be used to analyze a patient's immunity against future SARS-CoV-2 infection. This COVID-19 neutralizing antibody lateral flow assay rapidly detects any antibodies that can neutralize the RBD-ACE2 interaction.
Researchers have been using traditional viral neutralization assay for testing SARS-CoV-2 neutralizing antibodies and there are several ELISA based neutralizing antibody test kits available in the market since May 2020. However, performing COVID-19 neutralization assays or ELISA requires complex laboratory settings, and it is time-consuming, despite a higher sensitivity and specificity. JOYSBIO's neutralizing antibody rapid test cassette provides an easy way for the preliminary screening of NAb to estimate patients' immunity to novel coronavirus infection. 
COVID-19 NAb Rapid Test Principle
JOYSBIO's COVID-19 neutralizing antibody test kit is a lateral flow assay for rapid NAb screening, which can mimics the virus neutralization process. This lateral flow assay contains two key components: the recombinant SARS-CoV-2 RBD fragment and chicken IgY, labeled by colloidal gold are as tracers; and the human ACE2 receptor protein (hACE2) and goat anti-chicken IgY antibody, coated with cellulose nitrate membrane. The protein-protein interaction between RBD and hACE2 can be blocked if the test samples contains a certain level of neutralizing antibody against SARS-CoV-2.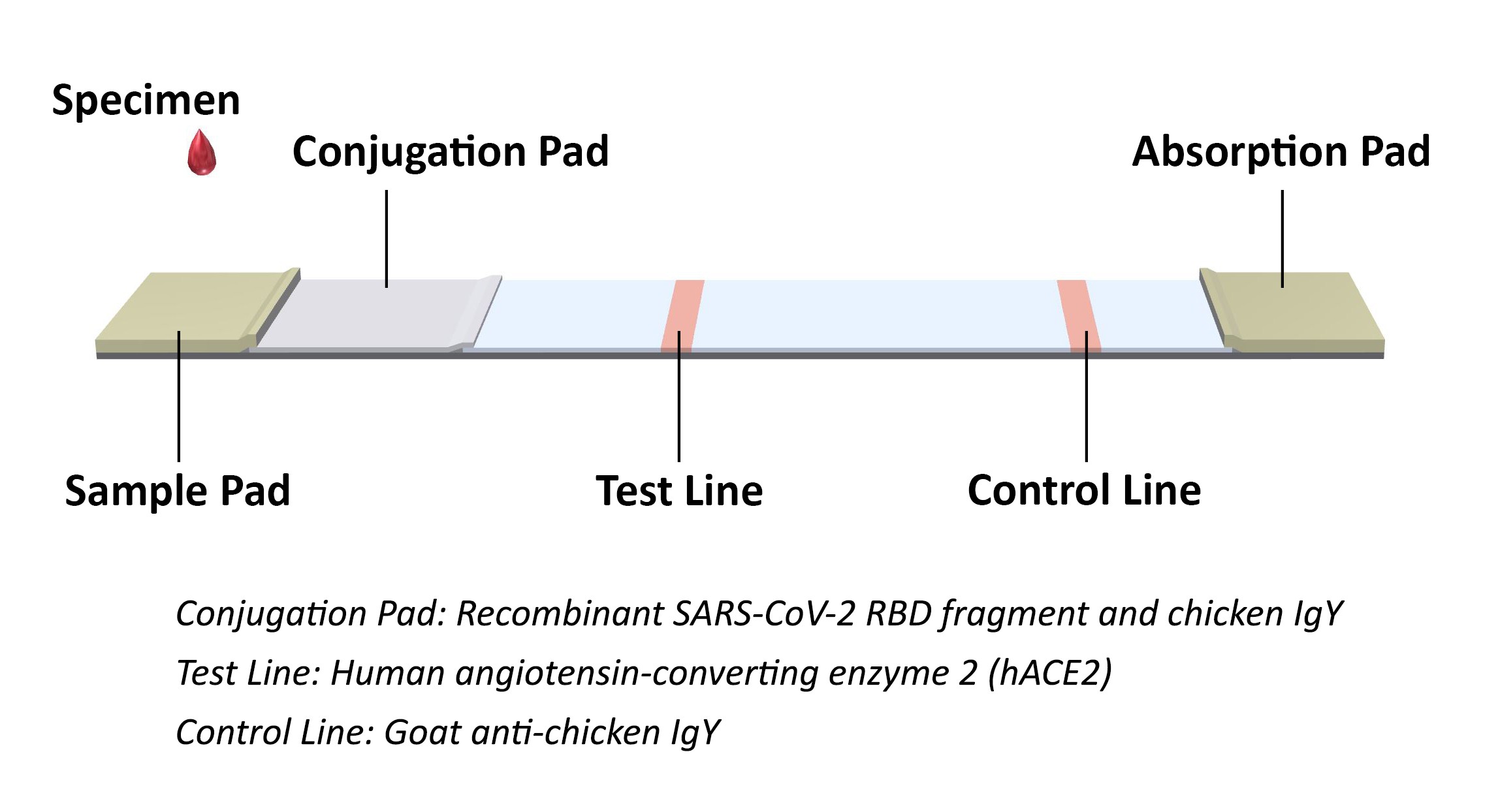 When specimens are added to the sample pad, neutralizing antibodies present in the specimen will bind to the RBD labeled colloidal gold and block the protein-protein interaction between RBD and hACE2. The unbound RBD labeled colloidal gold as well as any RBD labeled colloidal gold bound to non-neutralizing antibody will be captured on the test line. The colloidal gold labeled chicken IgY antibody is bound to the goat anti-chicken IgY antibody coated with a colored band (C line), which acts as a procedural quality control line.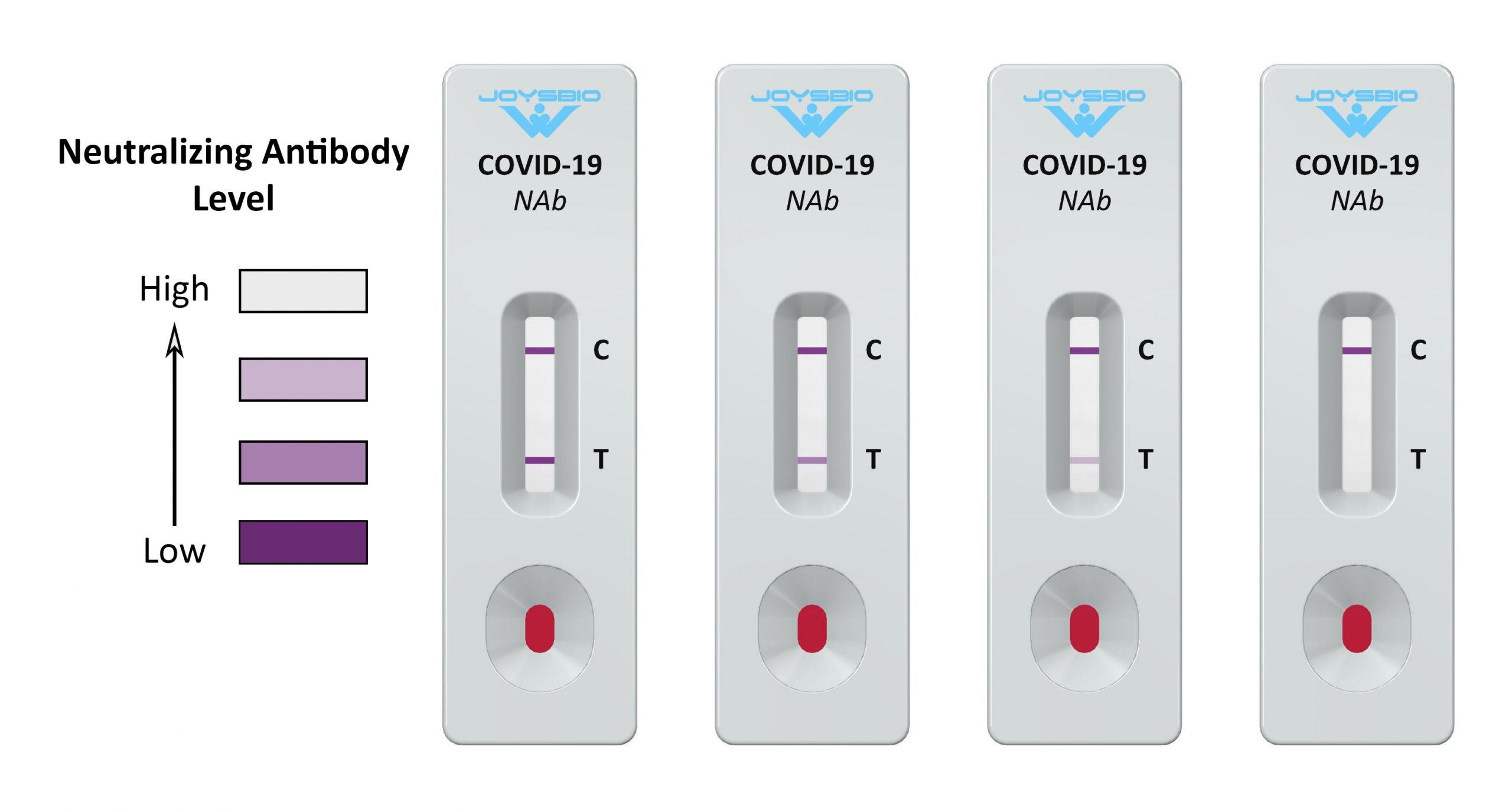 Result Interpretation
An obvious colored band on test line, colored line band on control line: low neutralizing antibody level
A tinted colored band on the test line, colored band on control line: medium neutralizing antibody level
No colored band on the test line, colored band on control line: high neutralizing antibody level
No colored band on control line: invalid result